Ah, summer. It's really nice to spend your long days and time outdoors. This year, summer has special meaning as many people are excited to head out on a vacation, perhaps it feels like it's their first time over a year. Summer read is the perfect travel companion, bringing with you the kind of book that provides light, balmy breeze as you chill on the beach, at the park, or in a backyard hammock.
From travel memoir to literary fiction, here are some authors and their best selling books to read during your leisure days.
Karen White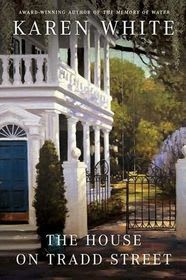 The Tradd Street Series

Southern fiction with a paranormal twist set among Charleston's historic homes and featuring psychic realtor Melanie Middleton.
Karen White is the New York Times bestselling author of more than twenty novels, including the Tradd Street series.
Book 1: The House on Tradd Street
Practical Melanie Middleton hates to admit she can see ghosts. But she's going to have to accept it. An old man she recently met has died, leaving her his historic Tradd Street home, complete with housekeeper, dog—and a family of ghosts anxious to tell her their secrets.
Enter Jack Trenholm, a gorgeous writer obsessed with unsolved mysteries. He has reason to believe that diamonds from the Confederate Treasury are hidden in the house. So he turns the charm on with Melanie, only to discover he's the smitten one...
It turns out Jack's search has caught the attention of a malevolent ghost. Now, Jack and Melanie must unravel a mystery of passion, heartbreak—and even murder.
Book 2: The Girl On Legare Street
Melanie has grown accustomed to renovating old houses, but she never imagined she'd have to renovate her own life to include her estranged mother. Ginnette Prioleau Middleton left Charleston thirty-five years ago. She's returned wanting to protect the daughter she's never really known after receiving an ominous premonition.
Melanie never wanted to see her mother again, but with some prodding from her partner, Jack Trenholm, she agrees-and begins to rebuild their relationship. Together Melanie and Ginnette buy back their old home. With their combined psychic abilities they expect to unearth some ghosts. But what they find is a vengeful dark spirit whose strength has been growing for decades. It will take unearthing long buried secrets to beat this demon and save what's left of Melanie's family..
Book 3: The Strangers on Montagu Street
Psychic realtor Melanie Middleton returns-only to be greeted by a house full of lost souls.
Psychic realtor Melanie Middleton is still restoring her Charleston house and doesn't expect to have a new houseguest, a teen girl named Nola. But the girl didn't come alone, and the spirits that accompanied Nola don't seem willing to leave
Book 4: Return to Tradd Street
Facing her future as a single mother, psychic Realtor Melanie Middleton is determined to be strong and leave her past with writer Jack Trenholm behind her. But history has a tendency of catching up with Melanie, whether she likes it or not.…
Book 5: The Guests on South Battery
Karen White invites you to explore the brick-walked streets of Charleston in her fifth Tradd Street novel, where historic mansions house the memories of years gone by, and restless spirits refuse to fade away...

Book 6: The Christmas Spirits on Tradd Street
Melanie Trenholm should be anticipating Christmas with nothing but joy--after all, it's only the second Christmas she and her husband, Jack, will celebrate with their twin babies. But the ongoing excavation of the centuries-old cistern in the garden of her historic Tradd Street home has been a huge millstone, both financially and aesthetically. Local students are thrilled by the possibility of unearthing more Colonial-era artifacts at the cistern, but Melanie is concerned by the ghosts connected to the cistern that have suddenly invaded her life and her house--and at least one of them is definitely not filled with holiday cheer....
Book 7: The Attic on Queen Street
Melanie Trenholm and her family navigate the eerie happenings in their town as ghosts threaten to upend their lives once again.
Credit: Good Reads

Arthur Golden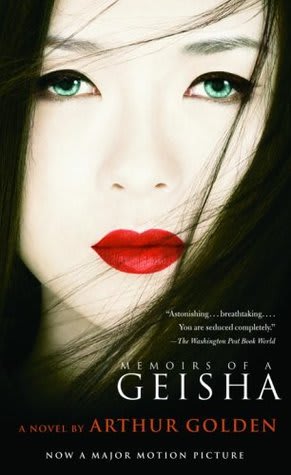 Memoirs Of A Geisha

15 years after I first read this book, it remains one of the most compelling, interesting and beautifully written books I have ever read.
A literary sensation and runaway bestseller, this brilliant debut novel presents with seamless authenticity and exquisite lyricism the true confessions of one of Japan's most celebrated geisha.
In Memoirs of a Geisha, we enter a world where appearances are paramount; where a girl's virginity is auctioned to the highest bidder; where women are trained to beguile the most powerful men; and where love is scorned as illusion. It is a unique and triumphant work of fiction - at once romantic, erotic, suspenseful - and completely unforgettable.
Credit: Good Reads

Tracy Chevalier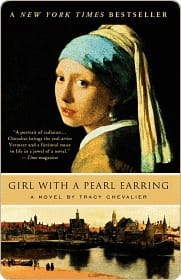 Girl With The Pearl Earring
Winner of the 2000 Barnes & Noble Discover Great New Writers Award! Alex Award winner! Tracy Chevalier transports readers to a bygone time and place in this richly imagined portrait of the young woman who inspired one of Vermeer's most celebrated paintings. History and fiction merge seamlessly in this luminous novel about artistic vision and sensual awakening. Girl with a Pearl Earring tells the story of sixteen-year-old Griet, whose life is transformed by her brief encounter with genius...even as she herself is immortalized in canvas and oil.
Credit: Good Reads

Anita Shreve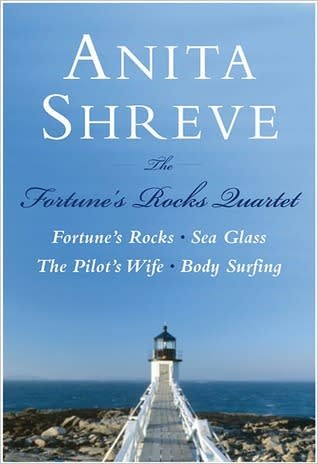 I had a vacation in Maine in July and these books have been some of my favorite beach reads. Especially Fortunes Rocks because it is near where I spend my vacation.
FORTUNE ROCKS QUARTET collects four of Anita Shreve's most beloved novels-Fortune's Rocks, The Pilot's Wife, Sea Glass, and Body Surfing-for the first time. The novels highlight Shreve's ability to illuminate women's lives across different eras and share a delightful detail: they are all set in the same coastal New England home, one that has inspired Shreve for over a decade. Any house with age to it can tell a million stories about the families who have lived there, and Shreve has been quoted as saying, ''You could base an entire life's work on the people who come in and out of a house.''
Fortune's Rocks depicts a spirited young woman at the turn of the 20th century who falls into a passionate, illicit affair with an older man. In Sea Glass, a young couple's new marriage is rocked to the core by the 1929 stock market crash. The Pilot's Wife brings us to the present day, where Kathryn is unprepared her for the late-night knock that lets her know her husband has been killed in a plane crash. Sydney, the heroine of Body Surfing has already been once divorced and once widowed by the age of 29, and finds the fragile existence she has rebuilt for herself threatened when two brothers vie for her affections.
Credit: Good Reads